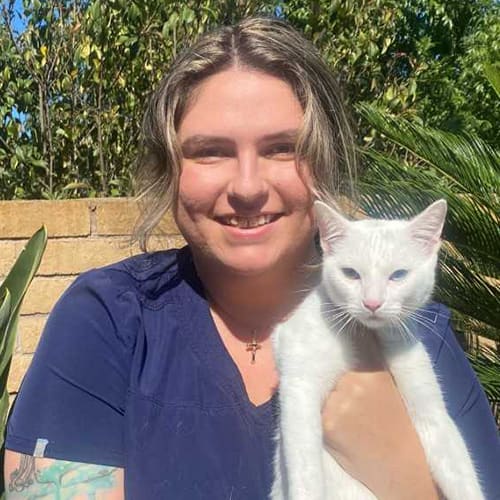 Had a tough day and need someone to make you smile and share a laugh, Karen is the person to seek out when you come into the office.  Her laugh and love of life is contagious.  You might think that with phrases like  'bless your heart' or  'sweetheart' that she grew up in the South…she did…Karen was born and raised in Southern California.

Karen is always one to jump in and help.  While raising her two children, Jacob and Kelsey, she has been a volunteer for their school, Girl Scouts, soccer, and booster club.

Time away from the practice will find her camping in the desert and zipping over sandy mountains on her dune buggy.  Her laugh might sometimes sound like a quack…that comes from cheering as many Anaheim Duck hockey games as she can.

Though Karen will spoil every dog and cat that comes through our doors, her other love is horses.  She owns a retired quarter horse named 'Cowboy', though mature he is full of personality.  The two of them can be found walking the horse trails in Orange County.  Her love of horses extends to include to her passion of safeguarding the lives and freedom of America's wild horses and burros.