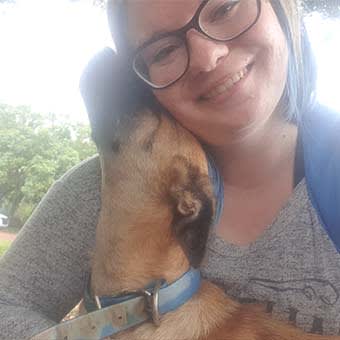 As a child of a veterinarian, Sara grew up with lots of animals in the house. Their family had cats, dogs, lizards, frogs, and fish. Currently, Sara has a senior DMH cat named Angel Midnight who steals their pillow at night, and you can often see Angel in our cattery when Sara is working. They also have a red-nosed pitbull named Julian, although the family calls him Pig Baby.

Growing up with so many animals as well as starting a pet sitting business at the age of 12 has taught Sara the responsibility of caring for animals, as well as the time and effect required to meet every animals' needs. They volunteered for a year at The Ark of San Juan's cattery at Petsmart in Capo Beach while working at Doheny State Beach before joining our team. Sara is not afraid to run after runaway pets or helping distressed animals, even if that means climbing cactus-filled hills or pinning a pelican to remove fishing line and hooks.

Sara graduated from Saddleback Community College in Spring of 2019 with an AA in Liberal Studies and an AS in Geology, and is saving for their BS in Geology. In their free time, Sara can be found hiking and off-roading in State and National Parks, and also enjoys photography, crocheting, camping, reading, going to concerts, and collecting rocks.